Inventor PowerPoint Presentations with Embedded DWFs
by David Melvin, PE, TEDCF Publishing
The Autodesk DWF Viewer is a little out dated, so you might want to read my tips and tricks on Sharing your Files and Embedding JT Files in Word, Excel, and PowerPoint.
If you have access to the Autodesk DWF Viewer, and you're using an older version of Inventor, read the following.
Embedding Autodesk's DWF Viewer in your PowerPoint can greatly enhance your PowerPoint presentations. You can rotate and markup your DWF files within each slide while you give your presentations, which in turn promotes interactive discussion with your audience.
This short exercise will show you how to create DWF files from your Inventor files and embed the DWF viewer into a PowerPoint presentation.
Save a DWF File.
You can create a DWF file from any of Inventor's file types. Simply open a file with Inventor and then go to the File pull-down menu and select Save Copy As.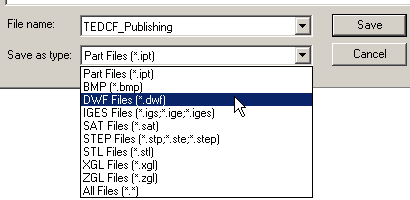 In the Save Copy As dialog box, click the down arrow on the Save As Type combo box and select DWF Files (*.dwf). Click the Save button to save the file.
Embed the DWF Viewer into a PowerPoint Slide.
Open a new PowerPoint presentation, and set the slide to a blank slide. Once you've done that, click the Insert pull-down menu and select Object.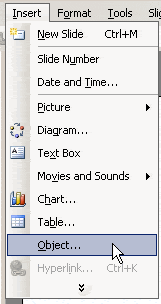 Select Autodesk DWF Viewer Control, and then click OK. If the viewer control is not listed in the window, see Limitations on the DWF Viewer within PowerPoint near the end of this article.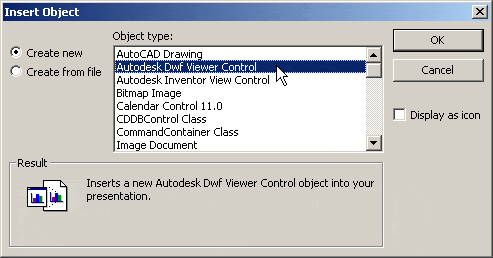 Autodesk's DWF Viewer will appear on the slide.