Learn useful CAD skills
Use real world examples
Improve your productivity
Progressively build your skills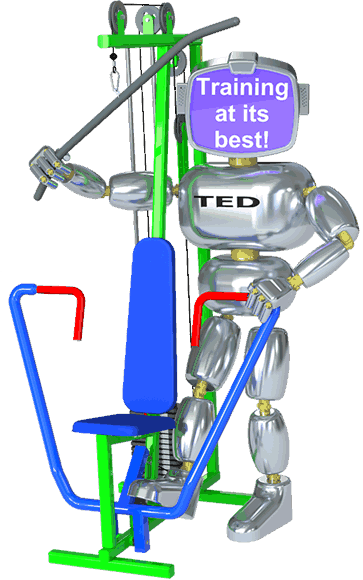 Master Inventor and SolidWorks!
Autodesk certifies our courses to assure you receive the highest quality product and customer satisfaction. We are a SOLIDWORKS Solution Partner to ensure customers receive the most thorough training on the market.
"I really had no idea how powerful Inventor could be until I took this course. This course is also yet another example of the outstanding work you all do! I have enjoyed all of the courses in your Ultimate Bundle, and just want to say thank you so much for making these products available! The knowledge provided is fantastic, and the ability to pause, work along with the instruction, and go back later for review is invaluable."
"As a novice to Inventor 2008, I find one learns Parametric CAD faster from a narrated video than from a reading a book or a power point slide. I like how you integrate subtle modeling productivity tricks into real world modeling examples throughout the entire course, rather than introducing them concentrated in fewer lessons. One remembers them better that way. I appreciate the insights on troubleshooting approaches you introduce; those are rarely covered on book courses. Same applies for your 3D Parametric design approach insights: coming from previous 2D 3D "Static" CAD programs, one needs to approach jobs differently, with a more defined design and organization strategy prior to starting. This forces us to think more like designers/engineers/machinists rather than drafters."
"This has been the most effective training that I have ever seen, and worked with. It has allowed me to start using Inventor rather quickly. I certainly got more out of this training than I have with any other course that I have been involved with. I have recommended this training to all of my fellow workers who do CAD, and have received rave reviews from all of them. Thanks ."
Gain a Professional Edge!
SolidWorks and Inventor 3D Solid Modeling Packages
Training for SOLIDWORKS and Autodesk Inventor is packaged to give you what you need when and where you need it. You can install training on your computer that never expires, and you can watch true streaming video from our server on a subscription basis. So individuals on the go can use phones and tablets as well as computers.
Learn what really counts!
You need training that shows you how to be productive with the software. It's not enough to know what a command does. You need to know sound processes and procedures for using commands. Otherwise your models and assemblies can be difficult to create and edit.
Our courses strike at the core of this problem. You progressively build command awareness while you learn vital tricks and procedures that maximize your productivity and the quality of your work.
Both beginner and advanced users can become experts.
Whether you're new to SolidWorks or Inventor you will quickly become an expert. Our courses start with the basics and progressively build your knowledge of effective techniques and command awareness. This is ideal for beginners, but it's also beneficial to experienced users. If you're an experienced user you will un-learn bad habits.
Since almost all the training documentation available today only shows you what the commands do, you have had to figure out what works to get the job done. Now you can take our courses to learn tips and techniques that will help you streamline your work and significantly improve your results.
In 2005 we conducted a survey that indicated that those who considered themselves advanced users increased their productivity an average of 40% after using our Deluxe Bundle of courses.
SolidWorks and Autodesk Inventor training made easy.
Our SOLIDWORKS and Inventor training tutorials are interactive video based courses designed to quickly and easily get students and professionals up to speed. We not only build your skills from the ground up, you can review when you need to. You can start right where you left your last study session, and you can do it at your own pace.
With no-hassle bookmarking and keyword search capabilities, you won't waste time looking for lessons or trying to remember where you are in the course. Bookmarking is automatic. The courseware automatically keeps track of your progress. If you forget how to perform a task, use the Memory Jogger. Type a key word phrase, and the Memory Jogger finds lessons for you.
Student and Faculty Resources
Student and Faculty can purchase courses at a significantly reduced price. You can save 20% off single seat orders up to over 75% off for multi-seat orders. All you need is a valid academic email address. Visit our Student and Faculty Discounts and Student and Faculty Lab Licensing pages for more information.
Corporate and Bulk Resources
Businesses and other organizations can purchase courses at a significant discount when you purchase more than one seat. Save 20% to 40% when you purchase more than 1 seat. Visit our Corporate Licensing page to learn more.