Planning Ahead with Autodesk Inventor - Parameters
By David Melvin, PE, TEDCF Publishing
This is the last part of a short mini-series of tips focused on strategy.  How to plan ahead to simplify your work.
Parameters are extremely helpful for guiding part construction with design specifications.
In this example I'll draw a cuboid, which is just a rectangular solid, but you can use the process to construct any part.
Start by opening a part file and then open the Parameters dialog box. Click the Manage tab, and then click the Parameters button.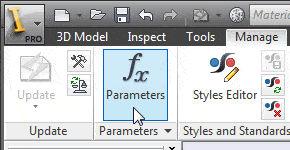 This opens the Parameters dialog box.
Let's say that the design specifications for the cuboid is it has to be 1-inch high, 2-inches wide, and 3-inches long. So we need to add parameters for each dimension.

Click the Add Numeric button, and add Height, Width, and Length parameters. Also change the value in the equation cell as shown below.

Now we can use the design parameters to control the size of the part. Click Done to close the dialog box.