Control Inventor Models with Custom Part Templates
by David Melvin, PE, TEDCF Publishing
This training tip shows you how to create a custom template and how to take charge of the location of sketch geometry. 
The first step is to change an important default settings.
By default, when you create a new sketch a projected node is located on the origin of the sketch. It's OK to use the node on the first sketch, but subsequent sketches should be constrained relative to existing geometry.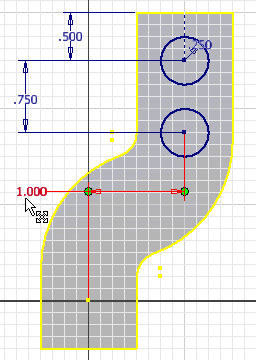 Take this sketch for example. It uses a 1-inch dimension to constrain the horizontal location of the bottom circle, and the top circle is horizontally located using a construction line. The top circle is constrained relative to existing geometry, while the bottom circle is constrained to the origin of the sketch.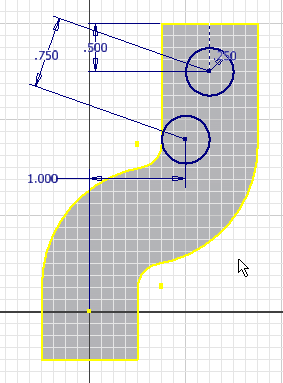 This is what the sketch looks like after changing the length of an extrusion by 1/4 of an inch. The bottom circle became misaligned while the top circle remained centered on the geometry.
If you consider that most part changes are measured in thousandths of an inch, you can see how a problem like this might not be so easy to detect.
When part geometry changes, you want the hole location to change relative to the geometry and not relative to an arbitrarily* placed origin of a sketch. So the first step is to deactivate the setting that projects the node onto new sketches.
Open an new part file using the Standard.ipt template.
Click the Tools tab, and then open the Application Options.
Click the Sketch tab, and then uncheck the "Autoproject part origin on sketch create" option. (It's near the bottom of the dialog box.)
Click OK.
We want the first sketch to…