The Green Snap Dot is Missing in Inventor
By David Melvin, PE, TEDCF Publishing
You've started a new sketch only to find that you can't snap to geometry with the green snap dot.  It seems to have disappeared.  This short tip will show you how to turn it back on.
First confirm that Constraint Inference and Constraint Persistence is turned on.  Click the Constrain panel in the Sketch tab and confirm that they are highlighted as shown.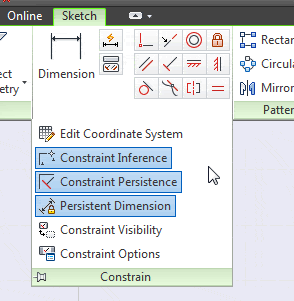 If they are not highlighted, click them to highlight them.
The next step is to…