Quickly Access the Forum in SolidWorks
by John Koop, SolidWorks Specialist, TEDCF Publishing
The SolidWorks forum can be an invaluable source of help and information. Anytime you have an issue while using the program, you can almost always find the solution on the forum.
In the 2013 version of the program SolidWorks made it much easier to access the forum. They added a SolidWorks Forum tab at the top of the Task Manager.

When you click this tab, a list of current forum topics appears in the window.  There is also a search tool at the top of the window, along with options to refine your search and a button to start a new discussion.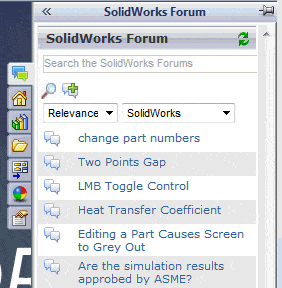 Asking questions on the SolidWorks forum is a great way to learn more about the program.  Here are a few tips to help you out when posting on forums:
Always make sure to explain your question/ issue clearly.  State what you are trying to accomplish, the problem you are having, and always specify which version of SolidWorks you are using.
Screenshots are a great way to show the issue you are having.
If allowed, attaching the problem file can make it easier for those on the forum to troubleshoot the issue.
No matter what issue you come across while using the program, chances are, someone else has experienced the same problem.  The forum is a great place to find the answers to these problems.
You can also improve your productivity with SolidWorks by watching our courses.