TEDCF Releases Certified Inventor 10 Training Course
Porterville, CA, March 25, 2005 – TEDCF Publishing, a leading Authorized Autodesk Publisher of interactive courses for Autodesk Inventor, today announced the availability of Accelerated Productivity 10: Solid Modeling, the first in a series of certified courses for Autodesk Inventor 10.
Accelerated Productivity 10: Solid Modeling, which can be launched from your desktop or from the Inventor menu bar, is a comprehensive interactive course showing how to use all the commands associated with creating solid models. Using the latest multimedia technology, users can watch animated movies that describe how to effectively and productively use the commands from their desktop computer or laptop.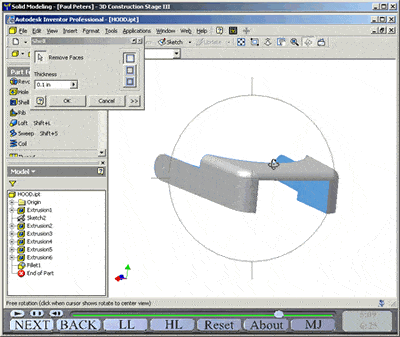 The Lesson Player, shown above at 1/4 scale, tracks the progress of up to 10 users on a single work station. All you need is a computer with speakers and a CD Drive, and the Lesson Player does the rest.
Automatic Course Layout – The course layout starts with basic concepts and builds to more advanced concepts. Users simply click the Next button to go to the next lesson in the course.
Automatic Book Marking – Allows users to close the courseware, and then reopen it for the next study session. The course automatically opens on the last viewed lesson.
Automatic Study History Logging – After a lesson is viewed, it's automatically moved to the History List. Users are able to review lessons from the History List simply by selecting a lesson from the list.
Review Previously Viewed Lessons – Users can go back as many lessons as needed simply by clicking the Back Button.
Quickly Find Lessons – All the lessons are accessible from the Lesson List.
Fully Indexed – The Memory Jogger allows users to enter keyword phrases to find a particular lesson without knowing the name of the lesson. Simply enter a keyword phrase, and a lesson about the keyword phrase begins to play.
Slider Control – This feature allows users to quickly move to any point in a lesson.
Time Displays – Total length and current position of each lesson is displayed so users can budget their time.
"Autodesk requires the highest quality and customer support standards to be certified for their products, and we're very proud to have met these standards," said David Melvin, PE, Author and Producer of the course. "It's hard to believe, but we've made this course even better than the course for Inventor 9. We've added over an hour and a half of instruction, expanded the courseware's study tracking capability from just one user to ten users on a single workstation, and last but not least, the course is certified by Autodesk. The response from our customer's is overwhelmingly good, and I can't tell you how good that makes me feel. It just keeps getting better every year."
TEDCF's customers will be amply satisfied with the power of this course, as indicated from a marketing study conducted by TEDCF. While previous courses significantly helped new Inventor users quickly get up to speed, the study shows that users already familiar with Inventor experienced as much as a 40% increase in productivity.
Learn more about Accelerated Productivity 10: Solid Modeling.
About the Author
David Melvin, PE is a licensed Mechanical Engineer with over 23 years of experience in research and development for major companies. He founded The Engineering Department Consulting Firm in 1998 and soon discovered that he needed an easier and faster way to train his draftsmen and engineers to use Autodesk Inventor. This need led him to begin making video based training courses. He found that this method of teaching was so effective that he founded TEDCF Publishing in 2000. Now his courses are used by thousands of professionals, students, and teachers all over the world.
About TEDCF Publishing
Founded in 2000, TEDCF Publishing is a division of The Engineering Department Consulting Firm. The company attained recognition as an Autodesk Authorized Publisher & Developer within the first year of business. The company provides training courses on CD for Inventor 6 through 2011, SolidWorks 2009-2011, and Microsoft Excel.