TEDCF Ships Autodesk Inventor Studio 2014 Training Course
Springville, CA, August 27, 2013 – TEDCF Publishing, an Autodesk Authorized Developer and producer of interactive, multimedia training courses, today announces the availability of Autodesk Inventor 2014: Inventor Studio Made Simple.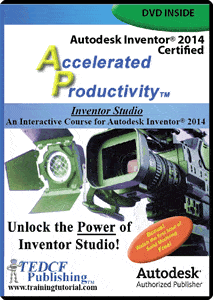 Inventor Studio Made Simple has 3 hours of video based instruction that teaches the user how to create fully rendered still images and animations. David Melvin, PE, the author of the course, breaks the processes down into manageable and understandable steps.
The course covers lighting styles, cameras, surfaces and materials, video editing, production strategies and a multitude of animation processes.
"It does a great job of showing users how to produce beautifully rendered images and animations." said John Koop, software engineer for TEDCF Publishing. "They can then use those images and animations to really wow their customers."
The course is the sixth part in a seven part series of courses for Inventor 2014 that will be released this year. It is currently available on DVD, as a direct download and through the TEDCF Streaming Video Service.
The Lesson Player has several customizable features designed to meet user needs.  Users can slow down or speed up the video playback rate, which allows the user to learn at their own pace.  When the user closes the Lesson Player it will automatically open to the same place in the course, so bookmarking is automatic.  Hotkeys are available to pause, play, review, and proceed to the next lesson, and it has a search engine that helps users quickly find lessons.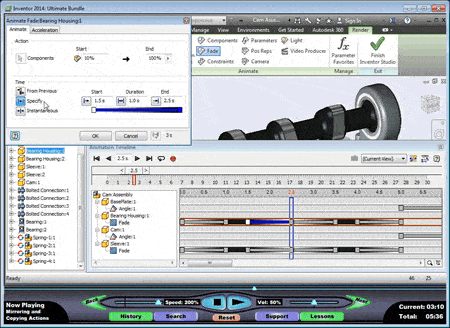 These are some of the features of the Inventor Studio course.
Lessons in Metric & English
Lesson Search Engine – find lessons fast
Progressive layout – step-by-step training
Simplified learning format – thorough explanations
Automatic book-marking – the course automatically opens on the last viewed lesson.
Volume Slider – adjustable volume.
Speed Slider – adjustable playback speed.
Full-screen capability
Time Displays – the length of each lesson along with the current time is displayed.
Hide-able Control Panel – gives users more room for full-screen viewing.
Hotkeys – gives users control while working in the Inventor environment.
System Requirements: Windows, Speakers, and Windows Media Player 9 or above.
Training courses offered by TEDCF Publishing run from a single installation on a PC computer. Users can pick specific courses to watch or watch course bundles containing several courses.
Visit Inventor Studio 2014 to learn more and watch sample lessons.
About the Author
David Melvin, PE is a licensed Mechanical Engineer and Autodesk University instructor with over 25 years of experience in research and development for major companies. He founded The Engineering Department Consulting Firm in 1998 and soon discovered that he needed an easier and faster way to train his draftsmen and engineers to use Autodesk Inventor. This need led to his founding of TEDCF Publishing's video-based training courses in 2000. Now TEDCF Publishing's courses are used by thousands of professionals, students, and teachers worldwide.
About TEDCF Publishing
Founded in 2000, TEDCF Publishing is a division of The Engineering Department Consulting Firm. The company attained recognition as an Autodesk Authorized Publisher & Developer within the first year of business. The company provides training courses for Autodesk Inventor 6 through 2013, SolidWorks 2009-2013, and Microsoft Excel.
Autodesk, Autodesk Inventor, and Inventor are registered trademarks or trademarks of Autodesk, Inc., in the USA and/or other countries. All other brand names, product names, or trademarks belong to their respective holders.