TEDCF Ships Inventor 2013 Tube & Pipe Training Course
Springville, CA, June 28, 2012 – TEDCF Publishing, an Autodesk Authorized Publisher and member of the Autodesk Developer Network, today released Autodesk Inventor 2013 Certified: Tube and Pipe Routed Systems, a video based training course for Autodesk Inventor 2013.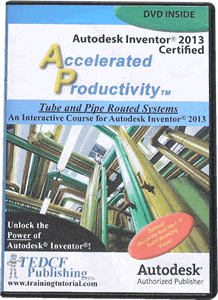 Tube and Pipe Routed Systems is the fifth course in a series of Inventor 2013 Certified courses scheduled for release this year. Starting with the basics, this course shows step-by-step procedures for advanced operations like creating custom iParts used in runs, authoring custom tube and pipe components to the content center, setting up custom tube and pipe styles, and developing strategies for building structurally sound runs.
Run stability is the ultimate goal of this course.  When assemblies are modified runs can rebuild to an undesirable route.  The course not only shows you sound procedures to prevent this, TEDCF Publishing has developed a tool that makes it easy.  It's called the Phantom Route Guide, and it's included with the course.
"We cover all aspects of the Tube and Pipe module," said John Koop, Software Engineer for TEDCF Publishing.  "And when you reach the end of the course you're able to construct very intricate and stable routes."
Users can download the full course now, and the upgradeable DVD can be pre-ordered.  When all seven courses are complete the DVD will ship on July 31st.  It will contain all seven courses so that the user can easily upgrade to a new course without having to purchase another DVD.
TEDCF Publishing has also enhanced their Lesson Player.  Along with adjustable playback speed and a lesson search engine, users can now assign global hotkeys. This gives users the ability to pause and play lessons while working in the Inventor environment. Users can also use hotkeys to advance to the next lesson in the course and review previously watched lessons.
These are some of the features of the course.
Lessons in Metric & English
Lesson Search Engine – find lessons fast
Progressive layout – step-by-step training
Simplified learning format – thorough explanations
Automatic book-marking – the course automatically opens on the last viewed lesson.
Volume Slider – adjustable volume.
Speed Slider – adjustable playback speed.
Full-screen capability
Time Displays – the length of each lesson along with the current time is displayed.
Hide-able Control Panel – gives users more room for full-screen viewing.
Hotkeys – gives users control while working in the Inventor environment.
System Requirements: Windows, Speakers, and Windows Media Player 9 or above.
Training courses offered by TEDCF Publishing run from a single installation on a PC computer. Users can pick specific courses to watch or watch course bundles containing several courses.
Visit Tube and Pipe Routed Systems 2013 to learn more and watch sample lessons.
About the Author
David Melvin, PE is a licensed Mechanical Engineer and Autodesk University instructor with over 25 years of experience in research and development for major companies. He founded The Engineering Department Consulting Firm in 1998 and soon discovered that he needed an easier and faster way to train his draftsmen and engineers to use Autodesk Inventor. This need led to his founding of TEDCF Publishing's video-based training courses in 2000. Now TEDCF Publishing's courses are used by thousands of professionals, students, and teachers worldwide.
About TEDCF Publishing
Founded in 2000, TEDCF Publishing is a division of The Engineering Department Consulting Firm.  The company attained recognition as an Autodesk Authorized Publisher & Developer within the first year of business.  The company provides training courses for Autodesk Inventor 6 through 2013, SolidWorks 2009-2011, and Microsoft Excel. 
Autodesk, Autodesk Inventor, and Inventor are registered trademarks or trademarks of Autodesk, Inc., in the USA and/or other countries. All other brand names, product names, or trademarks belong to their respective holders.