TEDCF Releases Advanced Course for Inventor 2012
Springville, CA, August 2, 2011 – TEDCF Publishing, a leading Autodesk Authorized Publisher and member of the Autodesk Developer Network, today released the Autodesk Inventor 2012 Certified: Assemblies & Advanced Concepts training course.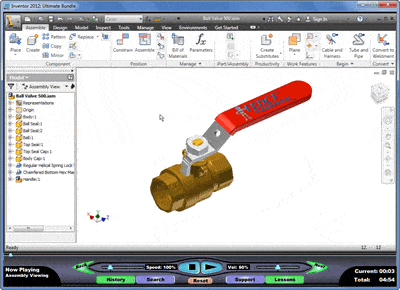 Assemblies & Advanced Concepts gives users professional-level assembly and advanced modeling skills. The 2012 release contains well over 9.5 hours of instruction and 99 lessons recorded solely in Autodesk Inventor 2012. All of the lessons were revised and include many new topics such as:
Beginner & Advanced iLogic
Advanced iFeature Development
Many more productivity-enhancing skills
"You don't have to know how to program to use iLogic," said David Melvin, PE and author of the course. "All you need to do is learn a few basic concepts. Once you've done that, you can unleash its power. iLogic is an extremely useful tool. You can create new configurations of similar products with the click of a button. Let's say your company makes Ball Valves. You can make a single Ball Valve drawing that produces all the configurations your company makes and add more configurations later."
The course is currently available via download. Some of the benefits of TEDCF Publishing downloadable training include:
Free, Automatic Updates – no need for a subscription to receive additions to courses already purchased. 
Upgrade Options – upgrade to a Bundle in the same release by clicking the Support button on the course lesson player.
Consolidated Course Program – one desktop icon shared by all six Inventor 2012 courses.
Consolidated Memory Jogger Search Engine – search for lessons in the same release without having to open the corresponding courses.
"We are very excited about our 2012 courses," said Laura Graham, Editor for TEDCF Publishing. "Besides being downloadable, our staff has worked hard to enhance the lesson player so that our customers can learn in an easy, efficient manner."
Some of these enhancements include:
Adjustable Screen Size
Adjustable Playback Speed
Hideable Control Panel
Full-screen capability
Another enhancement is the availability of a free Certificate of Completion. The certificate is offered for those who need proof of training to fulfill state or work requirements. A new certificate will be available for all six TEDCF Publishing Inventor 2012 courses totaling over 40 hours of efficient training.
The Assemblies & Advanced Concepts course is still presented in the same helpful, user-friendly method that TEDCF has used in the past. Here are some of the benefits of this learning method:
Lessons in Metric & English.
Search Engine – now the Memory Jogger allows you to run a search for any topic no matter which course you are using.
Progressive layout – step-by-step training begins with basic concepts and progressively builds to advanced skills.
Simplified learning format – users benefit from thorough explanations that cover all the steps.
Automatic book-marking – the course automatically opens to the last viewed lesson.
Volume Slider – adjustable volume.
Time Displays – the length of each lesson along with the current time is displayed.
System Requirements: Windows, Speakers, and Windows Media Player 9 or above, 844 MB
Learn more about the Autodesk Inventor 2012 Certified: Solid Modeling course.
About the Author
David Melvin, PE is a licensed Mechanical Engineer with over 25 years of experience in research and development for major companies. He founded The Engineering Department Consulting Firm in 1998 and soon discovered that he needed an easier and faster way to train his draftsmen and engineers to use Autodesk Inventor software. This need led to TEDCF Publishing's video-based training courses in 2000. Now these courses are used by thousands of professionals, students, and teachers all over the world.
About TEDCF Publishing
Founded in 2000, TEDCF Publishing is a division of The Engineering Department Consulting Firm. The company attained recognition as an Autodesk Authorized Publisher & Developer within the first year of business. The company provides training courses on CD for Autodesk Inventor 6 through 2010, SolidWorks 2009-2011, and Microsoft Excel. Courses for Autodesk Inventor 2011-2012 are available via download or on DVD.
Autodesk, Autodesk Inventor, and Inventor are registered trademarks or trademarks of Autodesk, Inc., in the USA and/or other countries. All other brand names, product names, or trademarks belong to their respective holders.