TEDCF Announces Training for Autodesk Inventor 2012
Springville, CA, April 28, 2011 – TEDCF Publishing, a leading Autodesk Authorized Publisher and member of the Autodesk Developer Network, is announcing the debut of their Autodesk Inventor 2012 software training courses. Course Bundles will be available on download starting May 4, 2011. 
"TEDCF Publishing has always done an exceptional job of creating training courses for our Inventor customers," said Carl White, director of digital design product management at Autodesk. "Their certified courses are accessible from the Inventor interface and they are an excellent training and reference tool. Making the same courses available by download allows more people to benefit from these trainings."
"We are very excited that our customers will have the option of downloading their training courses this time around," said Laura Graham, Editor for TEDCF Publishing. "This advancement also makes our courses available on a more global scale since shipping time and costs are not required."
More benefits of the downloadable training courses include:
Free, Automatic Updates – no need for a subscription to receive additions to courses already purchased. Customers will download lessons that are currently available and every time the course is opened, any new lessons will be added automatically.
Upgrade Options – upgrade to a Bundle in the same release by clicking the Support button on the course lesson player.
Consolidated Memory Jogger Search Engine – search for lessons in the same release without having to have the corresponding course open.
On May 4, customers can choose to download the completed lessons for any of the course bundles. As lessons are added at TEDCF Publishing, the customer's course will update automatically each time it is used. All course bundles offer a 2-hour trial with a money-back guarantee.
The Ultimate Bundle will consist of all six Inventor 2012 training courses. These include Solid Modeling, Assemblies & Advanced Concepts, 2D Drafting & Customization, Sheet Metal Design, Tube & Pipe Routed Systems, and Inventor Studio. The Deluxe Bundle will offer the first four courses in the series, the Expert Bundle will consist of the first three, and the Advanced Bundle will offer Solid Modeling and Assemblies & Advanced Concepts.
Course DVDs will be available for pre-order beginning on the same day. The DVDs are available for those who prefer a back-up copy of their downloadable course or for those who do not have access to the Internet on their workstations.
TEDCF Publishing's Autodesk Inventor 2012 software training courses will contain many new and revised lessons. New lesson topics include:
iLogic
Fusion
the new Dynamic Interfaces
and more!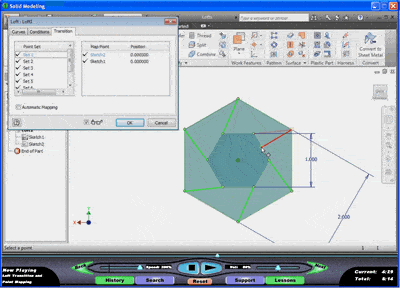 Despite new lesson material, the courses will be presented in the same helpful, user-friendly method that TEDCF has used in the past. Here are some of the benefits of this learning method:
Lessons in Metric & English.
Adjustable playback speed – learn at your own pace.
Progressive layout –step-by-step training begins with basic concepts and progressively builds to advanced skills.
Simplified learning format – users benefit from thorough explanations that cover all the steps.
Search Engine – the Memory Jogger search engine allows users to enter keywords to find specific lessons.  Now you can search across all of the courses no matter which course you are on.
Full-screen capabilities – see all of the details.
Automatic book-marking – the course automatically opens to the last viewed lesson.
Volume Slider – adjustable volume.
Time Displays – the length of each lesson along with the current time is displayed.
System Requirements: Windows & Speakers
Learn more about the Autodesk Inventor 2012 Certified training courses.
About the Author
David Melvin, PE is a licensed Mechanical Engineer with over 25 years of experience in research and development for major companies. He founded The Engineering Department Consulting Firm in 1998 and soon discovered that he needed an easier and faster way to train his draftsmen and engineers to use Autodesk Inventor software. This need led to TEDCF Publishing's video-based training courses in 2000. Now these courses are used by thousands of professionals, students, and teachers all over the world.
About TEDCF Publishing
Founded in 2000, TEDCF Publishing is a division of The Engineering Department Consulting Firm. The company attained recognition as an Autodesk Authorized Publisher & Developer within the first year of business. The company provides training courses on CD for Autodesk Inventor 6 through 2010, SolidWorks 2009-2011, and Microsoft Excel. Courses for Autodesk Inventor 2011-2012 are available via download or on DVD.
Autodesk, Autodesk Inventor, and Inventor are registered trademarks or trademarks of Autodesk, Inc., in the USA and/or other countries. All other brand names, product names, or trademarks belong to their respective holders.