TEDCF Releases Downloadable SolidWorks 2011 Training Courses
Springville, CA, March 9, 2011 – TEDCF Publishing, a SolidWorks Solution Partner, today announced the release of downloadable SolidWorks 2011 training courses.
"Our customers have been asking for a downloadable version for some time now and we can just feel the excitement and anticipation of its release," said Laura Graham, the editor for TEDCF Publishing. "This is especially true for our international customers who will no longer have to pay shipping fees to receive our training courses."
For those who prefer to have the software in-hand, there is also an option to have the courses shipped to you. The download allows you to benefit from the courses while waiting for the CDs to arrive.
"By the time our customers have done the research and placed their orders, they needed the courses yesterday," said David Melvin, PE, and author of the training courses. "Now they can get the help they need without having to wait."
In order to purchase the downloadable courses, visitors will first download a guided tour to see the level of detail involved in TEDCF Publishing training courses. This will allow prospective buyers to find out in advance if the courses are right for them.
Both the downloadable and CD versions contain the same SolidWorks 2011 training courses:
Professional Modeling – focuses on how to create structurally sound, editable models.
Advanced Parts & Assemblies – teaches advanced topics within the part and assembly environments.
Mechanical Drawings – demonstrates all the commands and skills required to create professional 2D drawings.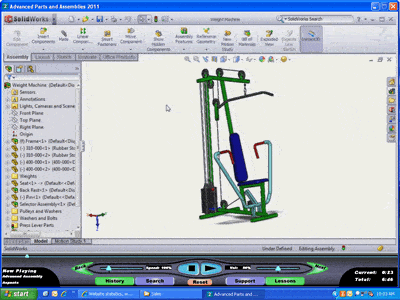 The downloadable courses are presented in the same helpful, user-friendly lesson player that the CD versions are presented in. Some benefits of the lesson player include:
Lessons in Metric & English.
Search Engine – now the Memory Jogger allows you to run a search for any topic no matter which course you are using.
Adjustable playback speed – learn at your own pace.
Progressive layout – step-by-step training begins with basic concepts and progressively builds to advanced skills.
Simplified learning format – users benefit from thorough explanations that cover all the steps.
Full-screen capabilities – see all of the details.
Automatic book-marking – the course automatically opens to the last viewed lesson.
Volume Slider – adjustable volume.
Time Displays – the length of each lesson along with the current time is displayed.
System Requirements: Windows & Speakers.
Learn more about the new downloadable SolidWorks 2011 training courses.
About the Author
David Melvin, PE is a licensed Mechanical Engineer with over 23 years of experience in research and development for major companies. He founded The Engineering Department Consulting Firm in 1998 and soon discovered that he needed an easier and faster way to train his draftsmen and engineers to use Autodesk Inventor. This need led him to begin making video based training courses. He found that this method of teaching was so effective that he founded TEDCF Publishing in 2000. Now his courses are used by thousands of professionals, students, and teachers all over the world.
About TEDCF Publishing
Founded in 2000, TEDCF Publishing is a division of The Engineering Department Consulting Firm. The company attained recognition as an Autodesk Authorized Publisher & Developer within the first year of business. The company provides training courses on CD for Inventor 6 through 2011, SolidWorks 2009-2011, and Microsoft Excel.