TEDCF Publishing Releases new Autodesk Inventor 9 Course
Porterville, CA, September 17, 2004 TEDCF Publishing, a leading Authorized Autodesk Publisher of interactive courses for Autodesk Inventor, today announced the availability of Autodesk Inventor 9 Accelerated Productivity: Single Part Solid Modeling, the first in a series of courses for Autodesk Inventor 9.
Single Part Solid Modeling provides over 5 1/2 hours of interactive instruction designed to significantly reduce the learning curve. Step-by-Step instruction is presented in short, fully animated movies that show and tell how to increase productivity with Autodesk Inventor 9 and how to use all the commands involved with creating single part solid models.
The instructor, David Melvin, PE, an authorized Autodesk author and author of 10 interactive courses for Autodesk Inventor said, "I believe this course to be the most comprehensive course I've produced so far. I took great care to include detailed descriptions and examples of how to productively use all of the Inventor commands that are used to create single part solid models."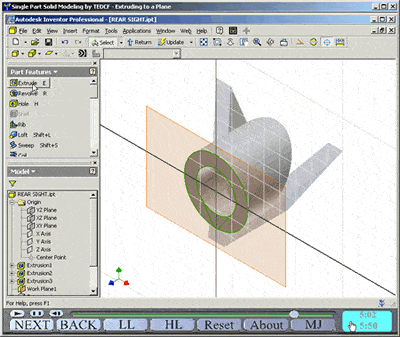 Autodesk Inventor 9 Accelerated Productivity: Single Part Solid Modeling uses a lesson player that runs on any PC with a CD Drive, sound card, and speakers. Attributes of the lesson player include:
Automatic Course Layout – The course layout starts with basic concepts and builds to more advanced concepts. Users simply click the Next button to go to the next lesson in the course.
Automatic Book Marking – Allows users to close the courseware, and then reopen the courseware for the next study session. The course automatically opens at the last viewed lesson.
Automatic Study History Logging – After a lesson is viewed, it's automatically moved to the History List. Users are able to review lessons from the History List simply by selecting a lesson from the list.
Review Previously Viewed Lessons – Users can go back as many lessons as needed simply by clicking the Back Button.
Quickly Find Lessons – All the lessons are accessible from the Lesson List simply by selecting a lesson from the list.
Fully Indexed – The Memory Jogger allows users to enter keyword phrases to find a particular lesson. Users can easily find a lesson without knowing the name of the lesson. Simply enter a keyword phrase, and a lesson about the keyword phrase begins to play.
Slider Control – This feature allows the user to drag the slider button to position the lesson at any point in a lesson.
Time Displays – Total length and current position of each lesson is displayed so users can budget their time.
About the Author
David Melvin, PE is a licensed Mechanical Engineer with over 23 years of experience in research and development for major companies. He founded The Engineering Department Consulting Firm in 1998 and soon discovered that he needed an easier and faster way to train his draftsmen and engineers to use Autodesk Inventor. This need led him to begin making video based training courses. He found that this method of teaching was so effective that he founded TEDCF Publishing in 2000. Now his courses are used by thousands of professionals, students, and teachers all over the world.
About TEDCF Publishing
Founded in 2000, TEDCF Publishing is a division of The Engineering Department Consulting Firm. The company attained recognition as an Autodesk Authorized Publisher & Developer within the first year of business. The company provides training courses on CD for Inventor 6 through 2011, SolidWorks 2009-2011, and Microsoft Excel.