TEDCF Releases Server-Based 3D-CAD Training
Springville, CA, November 23, 2010 – TEDCF Publishing, a SolidWorks Solutions Partner and Autodesk Authorized Developer, today announced the availability of server-based training courses for SolidWorks 2009-2010 and Autodesk Inventor 2011.
"Now users can log into their server from any terminal to get the training they need," said David Melvin, the author of the courses. "This is especially useful to individuals who are always on the move."
Interactive courses are installed on the company server and then employees access them by registering their user profile account.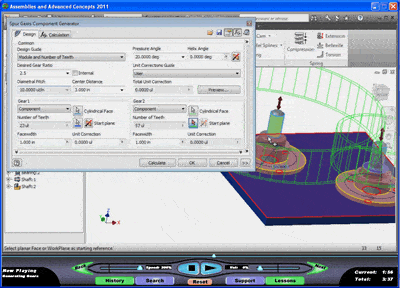 The server versions include the new lesson player which has adjustable playback speed, full-screen capabilities, and is available in Metric and English units.
Learn more about server-based 3D-CAD training with TEDCF Publishing training courses.
About the Author
David Melvin, PE is a licensed Mechanical Engineer with over 23 years of experience in research and development for major companies. He founded The Engineering Department Consulting Firm in 1998 and soon discovered that he needed an easier and faster way to train his draftsmen and engineers to use Autodesk Inventor. This need led him to begin making video based training courses. He found that this method of teaching was so effective that he founded TEDCF Publishing in 2000. Now his courses are used by thousands of professionals, students, and teachers all over the world.
About TEDCF Publishing
Founded in 2000, TEDCF Publishing is a division of The Engineering Department Consulting Firm. The company attained recognition as an Autodesk Authorized Publisher & Developer within the first year of business. The company provides training courses on CD for Inventor 6 through 2011, SolidWorks 2009-2011, and Microsoft Excel.