TEDCF Releases Inventor 2011 Tube & Pipe Training Course
Springville, CA, September 21, 2010 – TEDCF Publishing, an Autodesk Authorized Publisher of multi-media courses for Autodesk Inventor, today announced the availability of their Autodesk Inventor 2011: Tube & Pipe Routed Systems training course.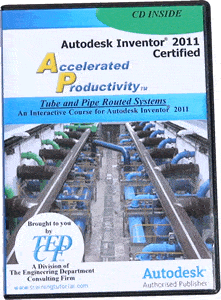 The Inventor 2011 Tube & Pipe Routed Systems module is taught in full detail through the use of short, step-by-step, multi-media movies. The author, David Melvin, PE, demonstrates how to create runs that edit properly and automatically.
"If you've ever used the Tube & Pipe module, you know it's not an intuitive software," said Melvin. "You must have the right training to use it effectively."
Another aspect of the course is that users learn how to design and publish custom components. "I have spoken with quite a few Inventor users who have had issues with designing and using custom components," said John Koop, software engineer and Inventor specialist for TEDCF Publishing. "This has driven us to be able to provide the necessary training to eliminate those issues."
The 2011 release features a new control panel. Users can view the lessons in full-screen, adjust the playback speed, and skip through or rewind each lesson by clicking the slider.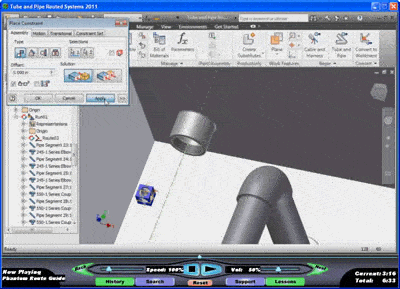 Attributes of the Tube & Pipe Routed Systems 2011 lesson player include:
Full-screen Capability – lessons can be played in full-screen mode.
Speed Slider – adjustable playback speed.
Progressive layout –step-by-step training begins with basic concepts and progressively builds to advanced skills.
Simplified learning format – users benefit from thorough explanations that cover all the steps.
Automatic book-marking – the course automatically opens to the last viewed lesson.
Search Engine – the Memory Jogger search engine allows users to enter keywords to find specific lessons.
Volume Slider – adjustable volume.
Time Displays – the length of each lesson along with the current time is displayed.
System Requirements: Windows & Speakers.
About the Author
David Melvin, PE is a licensed Mechanical Engineer with over 23 years of experience in research and development for major companies. He founded The Engineering Department Consulting Firm in 1998 and soon discovered that he needed an easier and faster way to train his draftsmen and engineers to use Autodesk Inventor. This need led him to begin making video based training courses. He found that this method of teaching was so effective that he founded TEDCF Publishing in 2000. Now his courses are used by thousands of professionals, students, and teachers all over the world.
About TEDCF Publishing
Founded in 2000, TEDCF Publishing is a division of The Engineering Department Consulting Firm. The company attained recognition as an Autodesk Authorized Publisher & Developer within the first year of business. The company provides training courses on CD for Inventor 6 through 2011, SolidWorks 2009-2011, and Microsoft Excel.