TEDCF Launches SolidWorks 2010 Video Training Course
Springville, CA, April 15, 2010 – TEDCF Publishing, a leading publisher of interactive courses for SolidWorks and Autodesk Inventor, today announced the availability of SolidWorks 2010: Professional Modeling.
Professional Modeling 2010 is designed for anyone who wants to learn effective was of using SolidWorks. It starts with the basics and gradually builds a strong foundation of skills. Each step of the way you learn strategies that maximize the use of the commands, and it has tips and techniques that will increase your productivity.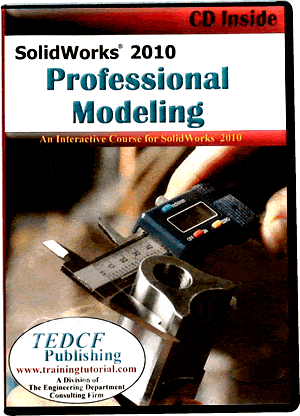 This unique training course was written and produced by David Melvin, PE, a licensed Mechanical Engineer with over 23 years of experience in product research and development. His teaching philosophy is centered on the efficient use of the software. Since the core purpose of 3D CAD is to increase your productivity, David focuses on showing you how to apply techniques and sound processes that maximize your productivity and the quality of your work.
"Our goal is to go beyond the commands to teach people how to use the software," said David Melvin, PE, author of the course. "Most training materials show you the buttons to push to execute a command, but they don't show you how to construct part models or why you should construct them in a certain way. If you don't use sound techniques when you create your models they'll be difficult to edit, and they can fail to rebuild. This is why the goal of this course is to show you effective ways of using the software. You'll learn how to use the commands, but more importantly, you'll learn how they work together to create structurally sound models."
The Professional Modeling 2010 course meets this goal by showing you effective methods and techniques used to create professionally constructed models. You start with the basics and progressively build a strong understanding of how the commands work as well as how to use them effectively.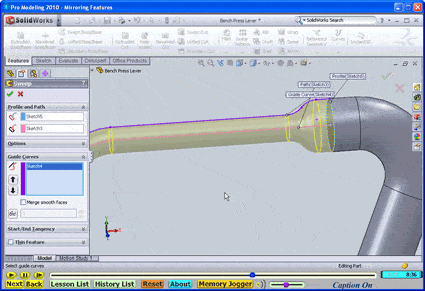 When you finish the course it becomes a helpful reference tool. The course comes with a search engine call the Memory Jogger. Type a keyword phrase, just like surfing the Internet, and then select lessons from your search results.
Study sessions are also automatically controlled by the Lesson Player. It tracks your progress and opens on the last lesson you were watching. You can easily review lessons you've already watched, and you can search for the lessons you need. All you need is a Windows based computer with speakers.
Lesson Player Attributes:
Large Screen Display
Caption – Captions can be turned on or off depending on your needs.
Automatic Course Layout – The course starts with basic concepts and builds to more advanced concepts.
Automatic Book Marking – The course automatically opens on the last viewed lesson.
Fully Indexed – The Memory Jogger allows you to enter keyword phrases to find a particular lesson.
Lesson Slider Control – Quickly moves you to any point in a lesson.
Volume Slider Control – Adjust the volume for your comfort.
Time Displays – Total length and current position of each lesson is displayed so you can budget your time.
About the Author
David Melvin, PE is a licensed Mechanical Engineer with over 23 years of experience in research and development for major companies. He founded The Engineering Department Consulting Firm in 1998 and soon discovered that he needed an easier and faster way to train his draftsmen and engineers to use Autodesk Inventor. This need led him to begin making video based training courses. He found that this method of teaching was so effective that he founded TEDCF Publishing in 2000. Now his courses are used by thousands of professionals, students, and teachers all over the world.
About TEDCF Publishing
Founded in 2000, TEDCF Publishing is a division of The Engineering Department Consulting Firm. The company attained recognition as an Autodesk Authorized Publisher & Developer within the first year of business. The company provides training courses on CD for Inventor 6 through 2011, SolidWorks 2009-2011, and Microsoft Excel.