TEDCF Ships Inventor Studio 2010 Certified Course
Springville, CA, September 10, 2009 – TEDCF Publishing, a leading Autodesk Authorized Publisher of interactive courses for Autodesk Inventor, today announced the availability of Autodesk Inventor 2010: Inventor Studio.
The course shows you how to render fully developed images, and how to make outstanding animations of your parts and assemblies. Watch as author David Melvin, PE shows tips and techniques that go beyond the commands.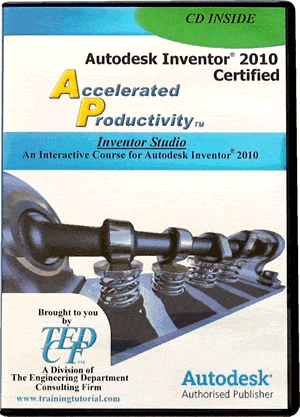 The Inventor Studio 2010 course explores the details of using all the commands in the Inventor Studio environment. Step-by-step instruction is provided in short video lessons that you watch on your computer. Each lesson builds on skills you've learned from previous lessons, so you progressively build a strong foundation of skills.
While you watch the course you'll learn the fundamentals of lighting, surface styles, rendering images, and producing animations. As your skills develop you'll learn advanced concepts like using paths to animate cameras and lights. You'll learn how to create surface styles from pictures of actual surfaces, and you'll learn how to morph parts by animating parameters. By the end of the course you'll know how to create full-length productions and outstanding images.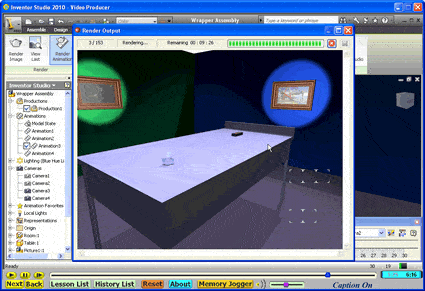 The Lesson Player automatically tracks your progress, so all you need is a computer with speakers.
Lesson Player Attributes:
Large Screen Display
Caption – Captions can be turned on or off depending on your needs.
Automatic Course Layout – The course starts with basic concepts and builds to more advanced concepts.
Automatic Book Marking – The course automatically opens on the last viewed lesson.
Fully Indexed – The Memory Jogger allows you to enter keyword phrases to find a particular lesson.
Lesson Slider Control – Quickly moves you to any point in a lesson.
Volume Slider Control – Adjust the volume for your comfort.
Time Displays – Total length and current position of each lesson is displayed so you can budget your time.
"Our customers have been requesting an Inventor Studio course for quite some time." said David Melvin, PE, author of the course. "Now that Autodesk enhanced the Inventor Studio environment, we just couldn't pass it up this year. You can animate everything from part parameters to cameras, lights, and components. Once you've created a few animations, you can splice them together to produce a full-length video. It's an amazing marketing tool, and it helps communicate concepts to others. I really enjoyed creating this course."
Learn more about Autodesk Inventor 2010: Inventor Studio and watch sample lessons from the course.
About the Author
David Melvin, PE is a licensed Mechanical Engineer with over 23 years of experience in research and development for major companies. He founded The Engineering Department Consulting Firm in 1998 and soon discovered that he needed an easier and faster way to train his draftsmen and engineers to use Autodesk Inventor. This need led him to begin making video based training courses. He found that this method of teaching was so effective that he founded TEDCF Publishing in 2000. Now his courses are used by thousands of professionals, students, and teachers all over the world.
About TEDCF Publishing
Founded in 2000, TEDCF Publishing is a division of The Engineering Department Consulting Firm. The company attained recognition as an Autodesk Authorized Publisher & Developer within the first year of business. The company provides training courses on CD for Inventor 6 through 2011, SolidWorks 2009-2011, and Microsoft Excel.