TEDCF Ships Inventor 2010 Certified Drafting Course
Springville, CA, July 1, 2009 – TEDCF Publishing, a leading Authorized Autodesk Publisher of interactive courses for Autodesk Inventor, today announced the availability of Autodesk Inventor 2010: 2D Drafting and Customization, the third in a series of certified courses for Autodesk Inventor 2010.
While teaching you how to apply effective drafting techniques, author David Melvin, PE explains how to customize drawings, templates, and styles. Step-by-step lessons are presented in short fully animated movies that show you how to work productively in the drawing environment.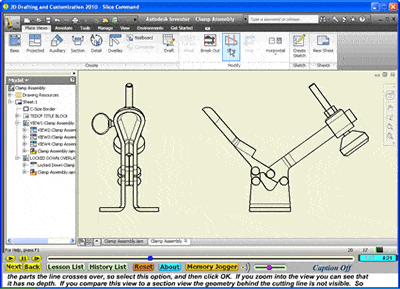 The Lesson Player, shown above, fills a 1024 X 768 screen. It automatically tracks your progress, so all you need is a computer with speakers and a CD Drive, and the Lesson Player does the rest.
Lesson Player Attributes:
Large Screen Display
Caption – Captions can be turned on or off depending on your needs.
Automatic Course Layout – The course starts with basic concepts and builds to more advanced concepts.
Automatic Book Marking – The course automatically opens on the last viewed lesson.
Fully Indexed – The Memory Jogger allows you to enter keyword phrases to find a particular lesson.
Lesson Slider Control – Quickly moves you to any point in a lesson.
Volume Slider Control – Adjust the volume for your comfort.
Time Displays – Total length and current position of each lesson is displayed so you can budget your time.
"I think this is one of our best courses." said David Melvin, PE, author of the course. "It has 20% more lessons than the 2009 course, but it's 20 minutes shorter. It's shorter because we've improved the speed and clarity of the lessons. This means that our customers can learn more in less time, which is what they need, fast high quality training that doesn't keep them from getting their work done. It doesn't get any better than that."
TEDCF's customers are amply satisfied with the power of this course, as indicated from a marketing study conducted by TEDCF Publishing. While the courses significantly helped new Inventor users quickly get up to speed, the study shows that those already familiar with Inventor experienced as much as a 40% increase in productivity.
Learn more about Accelerated Productivity 2010: 2D Drafting & Customization.
About the Author
David Melvin, PE is a licensed Mechanical Engineer with over 23 years of experience in research and development for major companies. He founded The Engineering Department Consulting Firm in 1998 and soon discovered that he needed an easier and faster way to train his draftsmen and engineers to use Autodesk Inventor. This need led him to begin making video based training courses. He found that this method of teaching was so effective that he founded TEDCF Publishing in 2000. Now his courses are used by thousands of professionals, students, and teachers all over the world.
About TEDCF Publishing
Founded in 2000, TEDCF Publishing is a division of The Engineering Department Consulting Firm. The company attained recognition as an Autodesk Authorized Publisher & Developer within the first year of business. The company provides training courses on CD for Inventor 6 through 2011, SolidWorks 2009-2011, and Microsoft Excel.