TEDCF Ships Inventor 2010 Certified Course Part 1
Springville, CA, May 20, 2009 – TEDCF Publishing, a leading Autodesk Authorized Publisher of interactive courses for Autodesk Inventor, today announced the availability of Autodesk Inventor 2010: Solid Modeling, the first in a series of certified courses for Autodesk Inventor 2010.
Autodesk Inventor 2010: Solid Modeling shows how the commands works while author David Melvin, PE explains how to apply techniques and sound processes that maximize your productivity and the quality of your work. You watch computer-based lessons that start with the basics and progressively build a strong understanding of how to use modeling commands effectively. The Solid Modeling 2010 course is the first course in a series followed by Assemblies and Advanced Concepts 2010.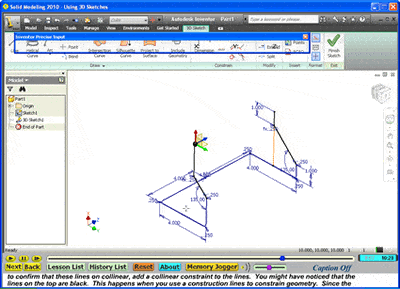 The Lesson Player, shown above, fills a 1024 X 768 screen. It automatically tracks your study sessions, so all you need is a computer with speakers and a CD Drive, and the Lesson Player does the rest.
Lesson Player Attributes:
Large Screen – The Lesson Player fills the screen when set to 1024 X 768 resolution.
Caption – Captions can be turned on or off depending on your needs.
Automatic Course Layout – The course starts with basic concepts and builds to more advanced concepts. You simply click the Next button to go to the next lesson in the course.
Automatic Book Marking – Close the courseware to end a study session, and then reopen it for the next study session. The course automatically opens on the last viewed lesson.
Automatic Study History Logging – After finishing a lesson, it's automatically moved to the History List. You are able to review lessons from the History List simply by selecting a lesson from the list.
Review Previously Viewed Lessons – You can go back as many lessons as needed by clicking the Back Button.
Quickly Find Lessons – All the lessons are accessible from the Lesson List.
Fully Indexed – The Memory Jogger allows you to enter keyword phrases to find a particular lesson.
Lesson Slider Control – This feature allows you to quickly move to any point in a lesson.
Volume Slider Control – This feature allows you to adjust the volume of a lesson.
Time Displays – Total length and current position of each lesson is displayed so you can budget your time.
"I found this tutorial to be an incredible help from the moment I opened the first lesson," said Jeffrey Swain designer-draftsman from Lawrence Massachusetts. "Questions that I previously had from reading other lesson manuals were answered in detail with a basic understanding of why I would use that particular discipline. I highly recommend this product to strengthen any knowledge you are looking for whether just starting or already have a design base."
"It's always a pleasure to hear comments like Jeffrey's," said David Melvin, PE, Author and Producer of the course. "We get outstanding reviews from our customers, and they help fuel the creative fire for improvements. This year we streamlined the lessons to improve the learning process. The lessons run at a slightly faster pace, and they focus more on skills you need to know to improve your productivity."
TEDCF's customers are amply satisfied with the power of this course, as indicated from a marketing study conducted by TEDCF. While earlier releases of their courses significantly helped new Inventor users quickly get up to speed, the study shows that users already familiar with Inventor experienced as much as a 40% increase in productivity.
Learn more about Accelerated Productivity 2010: Solid Modeling.
About the Author
David Melvin, PE is a licensed Mechanical Engineer with over 23 years of experience in research and development for major companies. He founded The Engineering Department Consulting Firm in 1998 and soon discovered that he needed an easier and faster way to train his draftsmen and engineers to use Autodesk Inventor. This need led him to begin making video based training courses. He found that this method of teaching was so effective that he founded TEDCF Publishing in 2000. Now his courses are used by thousands of professionals, students, and teachers all over the world.
About TEDCF Publishing
Founded in 2000, TEDCF Publishing is a division of The Engineering Department Consulting Firm. The company attained recognition as an Autodesk Authorized Publisher & Developer within the first year of business. The company provides training courses on CD for Inventor 6 through 2011, SolidWorks 2009-2011, and Microsoft Excel.