TEDCF Offers Free Online Autodesk Inventor 2009 Course
Springville, CA, March 3, 2009 – TEDCF Publishing, a leading Authorized Autodesk Publisher of interactive courses for Autodesk Inventor, today announced the availability of their Free Online Course for Autodesk Inventor 2009.
In an effort to do their part in helping to stimulate the economy, TEDCF Publishing is offering a Free Online Course for Autodesk Inventor 2009 . Individuals who are out of work or companies struggling with training costs can take advantage of the course while the economy remains uncertain.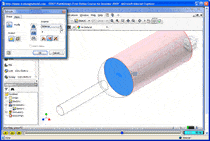 The course consists of over 3 1/2 hours of instruction from TEDCF Publishing's arsenal of courses. Step-by-step instruction is presented in short fully animated lessons starting with basic concepts, progressing to advanced concepts, while building a strong foundation of skills.
"We know that times are tough," said David Melvin, PE, author of TEDCF Publishing's courses for Autodesk Inventor. "Everyone has to do their part to help simulate the economy. This is our way of doing what we can. Once the economy bounces back we'll discontinue the course."
Click here to access TEDCF Publishing's free Autodesk Inventor 2009 training course.
About the Author
David Melvin, PE is a licensed Mechanical Engineer with over 23 years of experience in research and development for major companies. He founded The Engineering Department Consulting Firm in 1998 and soon discovered that he needed an easier and faster way to train his draftsmen and engineers to use Autodesk Inventor. This need led him to begin making video based training courses. He found that this method of teaching was so effective that he founded TEDCF Publishing in 2000. Now his courses are used by thousands of professionals, students, and teachers all over the world.
About TEDCF Publishing
Founded in 2000, TEDCF Publishing is a division of The Engineering Department Consulting Firm. The company attained recognition as an Autodesk Authorized Publisher & Developer within the first year of business. The company provides training courses on CD for Inventor 6 through 2011, SolidWorks 2009-2011, and Microsoft Excel.