TEDCF Releases Certified Inventor 2009 Training Course
Springville, CA, July 17, 2008 – TEDCF Publishing, a leading Authorized Autodesk Publisher of interactive courses for Autodesk Inventor, today announced the availability of Accelerated Productivity 2009: Assemblies and Advanced Concepts, the second in a series of certified courses for Autodesk Inventor 2009.
Assemblies and Advanced Concepts is an Autodesk Inventor 2009 Certified course providing Step-by-Step instruction presented in short, fully animated movies. It runs from a standard CD drive on your computer, and it's designed to quickly build professional skills.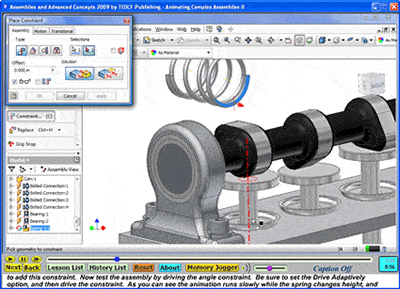 Lesson Player Attributes:
Large Screen – The Lesson Player fills the screen when set to 1024 X 768 resolution.
Caption – Captions can be turned on or off depending on your needs.
Automatic Course Layout – The course starts with basic concepts and builds to more advanced concepts. You simply click the Next button to go to the next lesson in the course.
Automatic Book Marking – Close the courseware to end a study session, and then reopen it for the next study session. The course automatically opens on the last viewed lesson.
Automatic Study History Logging – After finishing a lesson, it's automatically moved to the History List. You are able to review lessons from the History List simply by selecting a lesson from the list.
Review Previously Viewed Lessons – You can go back as many lessons as needed by clicking the Back Button.
Quickly Find Lessons – All the lessons are accessible from the Lesson List.
Fully Indexed – The Memory Jogger allows you to enter keyword phrases to find a particular lesson.
Lesson Slider Control – This feature allows you to quickly move to any point in a lesson.
Volume Slider Control – This feature allows you to adjust the volume of a lesson.
Time Displays – Total length and current position of each lesson is displayed so you can budget your time.
The course shows users how to work in the Assembly environment as well as how to perform advanced commands. Users learn how to construct adaptive parts and assemblies, mirror and copy assemblies, create flexible assemblies, work with iParts and iAssemblies, create iFeatures, and learn how to use all the assembly modeling commands.
Advanced modeling techniques designed to help users increase productivity are also included in the course. Users learn how to streamline the use of driven sketches to create adaptive parts, learn how to use motion and transitional constraints, check for collisions, use the Contact Solver, generate parts with the Design Accelerator, and learn how to work in the Inventor Studio environment. The focus of this course is to show users how to effectively and productively use the commands while applying advanced techniques developed by David Melvin, PE.
"The format of this course has provided me with what I need to complete our company projects in a shorter period of time," said Jeff Hendrick, owner of Steel Strategies, Inc. "I've learned what to do and what not to do with Autodesk Inventor, and was able to easily study the coursework at my own pace and at my own schedule. The instructions are clear and concise, and very in-depth. It has helped me increase my awareness of all that Inventor has to offer, and has saved me a great deal of time and money."
"Our goal at TEDCF Publishing is to simplify the learning process," said David Melvin, PE, author of the course. "We apply an average of 3 hours of production and editing to every minute of instruction to reach this goal. The result is a training course that's easily to learn from."
TEDCF's customers are amply satisfied with the power of this course, as indicated from a marketing study conducted by TEDCF Publishing. While the courses significantly helped new Inventor users quickly get up to speed, the study shows that users already familiar with Inventor experienced as much as a 40% increase in productivity.
Assemblies and Advanced Concepts has over 9 1/2 hours of instruction structurally organized to enhance the learning process. Each lesson builds on skills learned in previous lessons while the course steadily pursues advanced topics. An example of some of the advanced topics in the course is the construction of multiple squared and ground helical springs in a cam driven assembly. While the construction of the assembly demonstrates the highest level of modeling skills, animation of the assembly brings user skills to a new level.
Learn more about Accelerated Productivity 2009: Assemblies and Advanced Concepts.
About the Author
David Melvin, PE is a licensed Mechanical Engineer with over 23 years of experience in research and development for major companies. He founded The Engineering Department Consulting Firm in 1998 and soon discovered that he needed an easier and faster way to train his draftsmen and engineers to use Autodesk Inventor. This need led him to begin making video based training courses. He found that this method of teaching was so effective that he founded TEDCF Publishing in 2000. Now his courses are used by thousands of professionals, students, and teachers all over the world.
About TEDCF Publishing
Founded in 2000, TEDCF Publishing is a division of The Engineering Department Consulting Firm. The company attained recognition as an Autodesk Authorized Publisher & Developer within the first year of business. The company provides training courses on CD for Inventor 6 through 2011, SolidWorks 2009-2011, and Microsoft Excel.