TEDCF Offers New Inventor 10 Sheet Metal Course on CD
Porterville, CA, June 15, 2005 – TEDCF Publishing, a leading Authorized Autodesk Publisher of interactive courses for Autodesk Inventor, today announced the availability of Accelerated Productivity 10: Sheet Metal Design, the forth in a series of certified courses for Autodesk Inventor 10.
Accelerated Productivity 10: Sheet Metal Design is a comprehensive interactive course showing how to use all the commands associated with creating sheet metal parts and assemblies. Using the latest multimedia technology, users watch animated movies that describe how to effectively and productively use the commands from their desktop computer or laptop.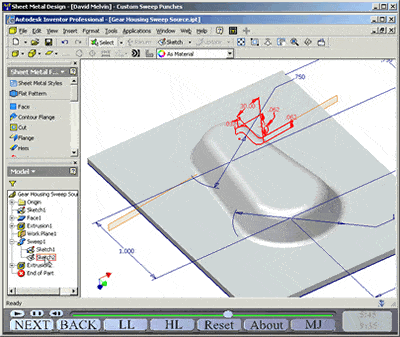 The Lesson Player, shown above at 1/4 scale, tracks the progress of up to 10 users on a single workstation. It automatically logs user's study history, and guides them from fundamental to advanced lessons.
"We were able to use Inventor for the first time to help visualize and design parts in 3D for our robot," said Joshua Lynn, Engineering Mentor for Team 487 of First Robotics Competitions and instructor for Springfield Township High School. "In two weeks of evenings I was able to go through most of the training and become proficient enough to successfully use Inventor."
Accelerated Productivity 10: Sheet Metal Design uses a learn-by-seeing-and-practicing approach that can significantly reduces the learning curve. Users instantly know how to perform each task because they see them being performed by the instructor while he explains how it's done.
"I have a background in drafting and 3D modeling with AutoCAD so I was a bit ahead of the learning curve," said Joshua. "However, the training videos from TEDCF explain not just how to use the commands but also give operational design techniques as well, which is crucial for avoiding mistakes due to inexperience."
Accelerated Productivity 10: Sheet Metal Design demonstrates effective techniques for using all the sheet metal commands, and includes customizing sheet metal styles and templates, using K-Factors and Bend Tables, creating custom punches, working with multiple plates in assemblies, unfolding complex patterns, and many more sheet metal related concepts.
Learn more about Accelerated Productivity 10: Sheet Metal Design.
About the Author
David Melvin, PE is a licensed Mechanical Engineer with over 23 years of experience in research and development for major companies. He founded The Engineering Department Consulting Firm in 1998 and soon discovered that he needed an easier and faster way to train his draftsmen and engineers to use Autodesk Inventor. This need led him to begin making video based training courses. He found that this method of teaching was so effective that he founded TEDCF Publishing in 2000. Now his courses are used by thousands of professionals, students, and teachers all over the world.
About TEDCF Publishing
Founded in 2000, TEDCF Publishing is a division of The Engineering Department Consulting Firm. The company attained recognition as an Autodesk Authorized Publisher & Developer within the first year of business. The company provides training courses on CD for Inventor 6 through 2011, SolidWorks 2009-2011, and Microsoft Excel.