Microsoft Excel 2010 & 2007
Excel Xpress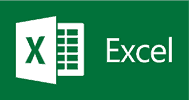 Watch a lesson. Practice with Excel, and build a strong foundation of skills. Watch the next lesson and continue to the end of the course. That's all it takes to master the software.
Within a very short time you'll know more than the average Excel user. Watch more and you'll be the guru among your friends and colleagues. It's as easy as 1, 2, 3.
You can download and install the free trial, watch sample lessons, and peruse the list of lessons below.
Don't forget to read through the list of lessons below and watch sample lessons from the link above.
Each lesson below builds on previous lessons. So you'll always have a strong footing to learn from.
If you have any problems, please contact us. We'll be happy to help.
Microsoft Excel 2010 & 2007
Excel Xpress
Regular Price: $109.95
You get it for:
if you want to start learning now!
if you want to bypass shipping costs!
Note: Download links never expire and you can download as many times as you need.
Buy the Download + USB Drive...
if you do not have Internet access.
if you want the same benefits of the download but would like a back-up copy of the courses.
127 Lessons
6 Hours (360 Minutes)
653 MB
Excel 2010 & 2007
Excel Xpress Lessons
Introduction
Basics
What is a Worksheet
Pointer
Click
Cells Columns and Rows
Highlight
Overview of the Worksheet Screen
The Title Bar
The Quick Access Toolbar
The Ribbon Interface
Intro to Cell Formats
Formatting Text
The Formula Bar
Adjusting Column Width
AutoFit
Screen Tips
Excel Help
The ClipArt Command
What is a Workbook
Getting Started
File Management
Planning Your Worksheet
Moving and Copying Cells
Cut Copy and Paste
The Office Clipboard
The Paste Option Icon
Insert Moved or Copied Cells
AutoFill
Entering Data
Entering Equations
Entering Basic Equations
The Insert Function Tool
The AutoSum Function Tool
Formatting Cells
Formatting Dates Currency and Text
Formatting Cell Borders
Formatting Cell Colors
Putting it All Together
Introduction to Level 2
Logical Functions
If Statement
Nested If Statement
The AND Function
Applying the AND Function
The OR Function
The NOT Function
Comparison Operators
Nested Logical Functions Simplified
Inserting Columns
Inserting Rows
The Insert Options Icon
The Format Painter
View Side by Side
How to Freeze Panes
Hiding and Unhiding Columns and Rows
Protecting Your Worksheet
How to Hide Formulas
Printing
How to Make a Print Sheet
Print Preview
Margins
Page Setup
Adjusting Columns
Setting Up a Print Area
Headers and Footers
Page Break Preview
Additional Equations Techniques
Absolute References
Mixed References
Circular Logic
Exponents and PI
The Power Function
The Square Root Function
Order of Operation
Introduction to Level 3
Introduction to Databases
How to Create a Database
Database Functions
DCOUNT
DCOUNTA
DMAX
DMIN
DGET
DSUM
DPRODUCT
Statistical Database Functions
Sorting Data
Filtering Data
Advanced Filter
Data Entry Form
Editing Data
Adding and Deleting Data
Worksheet Controls and Macros
Combo Box Control
Spinner Control
Option Button Control
Creating Criteria Lists
Using the DGET Function
Using the DCOUNT Function
Error Trapping
Automating Output Part I
Automating Output Part II
How to Create and Run Macros
Deleting and Renaming Macros
Editing Macros
Creating an Update List
Writing an Update Macro
How to Create a Macro Button
Graphs and Charts
Chart Design
Chart Layout
Chart Format
VLOOKUP Function
HLOOKUP Function
INDEX Function
AREAS Function
COLUMNS Function
ROWS Function
LOOKUP Function
MATCH Function
CHOOSE Function
INDIRECT Function
COLUMN Function
ROW Function
ADDRESS Function
HYPERLINK Function
Conclusion