Microsoft Excel Training Tutorials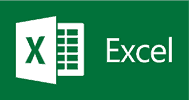 Take your skills from the basics to an extremely advanced level!
You can learn to use Microsoft Excel in less time than you might think. Within just an hour of watching this course you will know as much about Excel as the average user. You'll be able to create simple worksheets complete with custom formulas and cells formatted to meet your needs.
Learning from this course is so easy we split it into 3 Levels. We call it, "Learning as easy as 1, 2, 3." The first level shows you what you need to know to have the skills of an average user. Level 2 takes you to an advanced level, which is the top 5% of all Excel users. And Level 3 builds your skills to a level that exceed those of the top 1%. By this point your worksheets almost literally come to life with artificial intelligence built into them. They will be able to read tables and make decisions based on the results of their findings. There is no doubt you can put the WOW factor in your worksheets when you reach this level.
How does it work? You just watch lessons and practice what you see on the screen. Each step of the way you will build a strong foundation of skills preparing for the next step. Within a short time you'll know more that you ever thought you could know about Microsoft Excel.
Microsoft Excel 2010 & 2007
Excel Xpress
Regular Price: $109.95
You get it for:
if you want to start learning now!
if you want to bypass shipping costs!
Buy the Download + USB Drive...
if you do not have Internet access.
if you want the same benefits of the download but would like a back-up copy of the courses.
Your Journey Through this Course
Level 1
You will learn to use Microsoft Excel in less time than you might think. The basics take about an hour, which is enough training to match the skills of most users. By this time you'll be able to make a simple worksheet.
Creating custom formulas and more advanced worksheets take a little longer to learn, but you'll be surprised at how quickly you'll get up to speed. Within the second hour of the course you'll learn details about how commands like copy and paste work as well as how to leverage command capabilities to meet your needs. Formatting cells and groups of cells, writing equations and formulas, and knowing a good strategy for creating worksheets will be a breeze when you reach this level.
Level 2
You might think building intelligence into your worksheets takes an enormous amount of skill, and it does, but we're just getting started. Once you reach Level 2 you will learn how to make cells respond to values in other cells. You will master logical operators which give your worksheets the ability to make decisions. You'll even learn how to make your worksheets change based on those decisions.
Keep in mind that everything you learn in this course is presented in a simple to understand manner. So it's easy to learn, and believe it or not, you can master these skills. But we're not finished yet. This only takes us most of the way through Level 2.
About half way through Level 2 the course shifts from the somewhat complex to worksheet formatting and setup for printing. So to keep you from having brain freeze you'll learn about simple concepts like Freeze Panes and hiding and un-hiding cells. You'll learn how to setup a print area as well as how to define page breaks.You'll learn everything you need to take complete control over printing and page format.
 Just before you finish with Level 2 you'll dive back into advanced cell formulas and mathematical functions, and you'll practice using more advanced logical operators. By this time you're skill level will be in the top 5% of all Excel users, but who's counting? You've had 4 hours of video instruction. You should be in the top 5%, but we're not finished.
Level 3
Now you're ready for Level 3, databases, lists, and macros, and all the functions associated with them. You're skills will quickly exceed those of the top 1% of Excel users. You will make Excel read values from tables and produce outputs based on the values it finds. In fact, your skill will be strong enough to create a completely automated warehouse inventory worksheet. When items in inventor get low, you will be notified. You'll be able to check out items from inventory and the remaining quantities are automatically updated. Macros will drive this powerhouse, and you'll know how everything works.
Did I mention charts and graphs? They're in there. Pivot tables and Error Trapping? Got it. This course has everything. It's easy to use, and designed to make it easy to learn. All you have to do is watch the lessons and practice the tasks in the lessons. Within a short time you will be the Excel expert in your community.
Memory Jogger Reference Tool
Mastering Microsoft® Excel takes plenty of hands on practice. If you go to a seminar, chances are that you'll forget some of what you learned. If you don't use it, you lose it.  We've taken care of this problem by breaking down the courses into short lessons you can watch anytime on your computer.
If that isn't enough, we've added a reference tool called the Memory Jogger. The Memory Jogger answers the question, "How do I …?" Just enter a keyword phrase and browse through the search results. It works just like a search engine. Within seconds you can be watching a lesson to show you how it's done.
This course is specially designed to teach beginner and advanced users to become professionally skilled with the software. The lessons progressively teach you fundamental skills while laying the foundation for advanced concepts discussed in later lessons. We recommend this tutorial for both beginner and advanced users. 
Maximize Your Learning Experience
Whether you have 5 minutes or 5 hours for learning sessions, you control the pace. The lesson player automatically knows right where you are in the course. Simply close the lesson player when you finish a study session. When you start the next study session the lesson player automatically opens the last lesson you were watching.
Student and Faculty Resources
Student and Faculty can purchase this course at a significantly reduced price. Save 20% using your Educational Discount Code. To receive and Educational Discount Code, email support@trainingtutorial.com using your academic email address. Request the Educational Discount Code in the body of the email, and if your email address is from an educational institution we will reply with your discount code.
Corporate and Bulk Resources
Businesses and groups can purchase our courses at a significantly reduced price. Begin saving 20% on two seat orders, and 40% off orders of 10 seats or more. Visit our Corporate Licensing Page for more information.