Tricks with Autodesk Inventor Stretch Command
By David Melvin, PE, TEDCF Publishing
Autodesk Inventor's Stretch command in the Sketch environment can be a useful tool for adjusting geometry that already has dimensions.  In this tip you'll learn a process that will help you successfully use the command.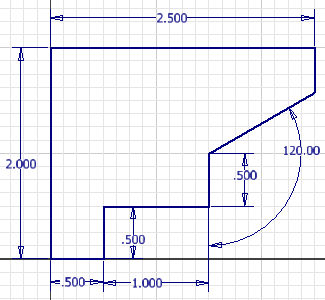 This is an example of why you might want to use the Stretch command.  Let's say we need to make the profile 2 inches wider.  So the top dimension will become 4.5 inches and the bottom 1 inch dimension will become 3 inches.  If you try to change one dimension the profile will twist forming two loops.  So it would be ideal if we could change both dimensions simultaneously.
Usually the profile will untwist when you modify the second dimension, but there are cases when it won't.  So you might have to try the Stretch command.
There are several ways you can use the command, but I'm just going to show you how to use it so that it will work every time.