Inventor Contoured Keyways with Fewer Problems
by David Melvin, PE, TEDCF Publishing
The image below represents a task that usually throws people for a loop. It's an irregular shaped shaft with a keyway slot cut into it. The blue portion is simply the bottom of the keyway, and it's highlighted in blue to make it easier to see. The keyway is .150 of an inch deep, and it follows the contour of the shaft. So the depth of the keyway is uniform throughout.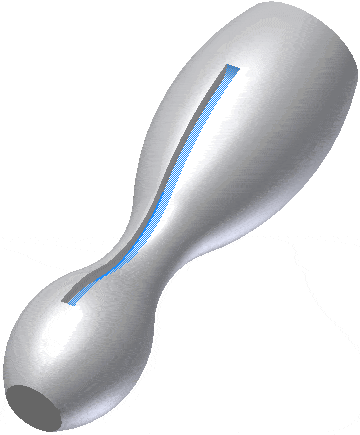 The most common mistake in making a keyway like this is to attempt to make a Sweep along a 3D spline. This usually causes more problems than it solves, and it's really not necessary. All you need to do is offset the profile of the shaft to make the sweep path.

Create an irregular shaped shaft by constructing half the profile, and then revolve the profile about the bottom horizontal line 360-degrees.

Once you've revolved the feature, share and edit the sketch. To create the sweep path, follow these steps.
Offset the profile toward the inside of the profile, and set the offset to .150.
Delete the straight lines of the offset. Only the curved lines of the offset should be left.
Draw and constrain vertical lines for the ends of the keyway.
Trim the curved lines to the vertical lines.
Add .188 radius fillets where the vertical lines intersect the curved lines.
When you're finished, the sketch should look something like this.