The easiest way to become productive with Tube and Pipe!
Learn how to make custom Tube and Pipe Styles, publish custom iPart Families to the Content Center, create derived routes and autoroutes, populate your routes, and much more!
This course shows you how to work effectively in the Tube and Pipe environment. After mastering the skills taught in the course you can rest assured that your runs will update properly and automatically.
56 Lessons
5.5 Hours (360 Minutes)
759 MB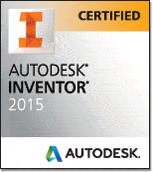 Autodesk Inventor 2015 
Tube and Pipe Routed Systems
if you want to start learning now!
if you want to bypass shipping costs!
Note: Download links never expire and you can download as many times as you need.
Buy the Download + USB Drive...
if you do not have Internet access.
if you want the same benefits of the download but would like a back-up copy of the courses.
Inventor 2015: Tube and Pipe Routed Systems
Introduction
Content Center File Locations
Introduction to Routed Systems
Intro to Tube and Pipe Styles
BOMs and Routed Systems
Adopting a Structured Process
Copying Tube and Pipe Styles
Custom Tube and Pipe Styles
Tube and Pipe Style Rules
Dimensioning Autoroutes
BOM Consolidation
Import Export Styles
Tube and Pipe Templates
3D Route Tool Ridged Pipe
Stock Pipe and Deleting Nodes
Tube and Pipe Authoring
Engagement Range Settings
Inline Authored Components
Replacing Fittings
Connecting Fittings
Inserting Fittings
Custom iPart Requirements
Custom Pipe iPart Styles
Custom Coupling iPart Styles
Custom Elbow iPart Styles
Custom Reducer iPart Styles
Custom Valve iPart Styles
Custom Tube and Pipe Library

Batch Publishing iParts
Testing Published iParts
Setting Up Custom iPart Styles
Preparing Assemblies
Strategy for Editable Routes I
Strategy for Editable Routes II
Updating Styles
Constraining Autoroutes
Modifiable Assemblies
Derived Routes
Autoroutes vs Derived Routes
Phantom Route Guide
Updating BOMs
System Defined Levels of Detail
Flexible Hose Styles
Flexible Hose Routes
Editing Hose Routes
Mastering Tubing Routes I
Mastering Tubing Routes II
Publishing Self Draining iParts
Custom Self Draining Styles
Self Draining Routes
Derived Assemblies
Reducers and Runs
Trick for Placing Fittings
Tricks for Constraining Routes
Connecting Runs
Conclusion