Unlock the Power of Inventor Studio!
There's no better way to show off your work than creating a fully rendered animation. This course breaks the process of creating still and animated renderings into simple to understand steps. Within a very short time you'll know all you'll need to create professional renderings
39 Lessons
3 Hours (180 Minutes)
214 MB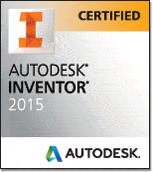 Autodesk Inventor 2015 
Inventor Studio
if you want to start learning now!
if you want to bypass shipping costs!
Note: Download links never expire and you can download as many times as you need.
Buy the Download + USB Drive...
if you do not have Internet access.
if you want the same benefits of the download but would like a back-up copy of the courses.
Inventor 2015: Inventor Studio Lessons
Introduction
Assembly Preparation
Introduction to Inventor Studio
Spotlight Settings
Set Ground Plane Orientation
IBL Environments
Custom IBL Environments
JPEG Images in IBL Environments
Point and Directional Lighting
Editing Appearances
Components of Animations
Animation Timeline and Actions
Mirroring and Copying Actions
Custom Animations
Suppress Constraint Animations
Enabling Constraint Animations
Camera Turntables
Camera Paths
Advanced Path Design
View Control Concepts
Custom Cameras
Fly-Through Animations
Analysis of Animation Motion
Animating Lights
Wrapper Assemblies
Local Lights
Publishing Styles
Surface Appearances
From Picture to Surface
Transparency and Reflectivity
Model Turntables
Using Positional Representations
Animating Parameters
Solving Animation Conflicts
Depth of Field
Video Producer
Editing Video Productions
Video Production Strategies
Conclusion