Create bullet proof models fast!
Solid Modeling shows you how to assure that your models are structurally sound. Beginner and advanced users should start with this course because it provides founding concepts for advanced operations and procedures discussed in later courses.
70 Lessons
9 Hours (540 Minutes)
578 MB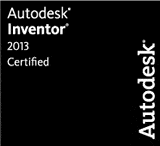 More Surface Modeling
Fusion
Marking Menu 
Dynamic Interface
More Lesson Models
Every lesson revised & refined
Enhanced Lesson Player
Certificate of Completion
Autodesk Inventor 2013 
Solid Modeling
Regular Price: $119.95
You get it for:
if you want to start learning now!
if you want to bypass shipping costs!
Note: Download links never expire and you can download as many times as you need.
Buy the Download + USB Drive...
if you do not have Internet access.
if you want the same benefits of the download but would like a back-up copy of the courses.
Inventor 2013: Solid Modeling
Introduction
Getting Started
The Open Dialog Box
Creating a Project
Overview of the User Interface
The Heads-Up Display
Create A Sketch
Sketch Constraints
Extruding a Profile
The In-Canvas Display
Mini-Toolbar Customization
The Marking Menu
Marking Menu Customization
Editing Profiles
View Cube and Navigation Bar
Sketches vs. Profiles
Solid Bodies
Constraining Profiles
Creating Profiles From Solids
Default Work Planes
Revolve a Feature
Trick for Constraining Sketches
Constraining the Axis of Revolution
Projecting Geometry
Creating Work Planes
Extruding to a Plane
Sharing Sketches
Construction Lines
Centerlines
Mirroring Features
Circular Feature Array
Rectangular Feature Array
Application Options
Creating Holes
Placing Holes Part I
Placing Holes Part II
Creating Hole Patterns Part I
Creating Hole Patterns Part II
Threaded Holes
Advanced Thread Settings
Finishing Features
Clearance Holes
Pipe Thread Holes
Fundamentals of the Shell Command
Using the Shell Command
3D Construction Stage I
3D Construction Stage II
3D Construction Stage III
Breaking Rules
Ribs Parallel to Sketch
Ribs Perpendicular to Sketch
Draft and Ejector Pads
2D Splines
Constraining Splines
Tweaking Splines
Bowties
Fit and Tension
Sweep
Sweep Path and Guide Rail
Sweep Path and Guide Surface
Introduction to 3D Sketches
Using 3D Sketches
3D Splines and Coils
Mirroring Sketch Geometry
Editing Mirrored Sketches
Automating Patterns
Lofts
Loft Conditions
Loft Transition and Point Mapping
Lofts with Rails
Rails on Cylindrical Lofts
Centerline Lofts and Sweeps
Face Properties
Closed Loop Lofts
Area Lofts
Loft Strategies
The Lip Command
Coils and Springs
Parameters
Linking Excel Spreadsheets
Threads
Importing Points
The Bend Part Command
Bending Conical and Loft Parts
Moving Faces
The Emboss Command
The Boss Command Part I
The Boss Command Part II
Ribs on Bosses
The Rest Command
The Grill Command
Rule Fillets
Replacing and Splitting Faces
The Sculpt Command
Modifying and Stitching Surfaces
Patch Stitch IGES Files I
Patch Stitch IGES Files II
Introduction to Fusion
Conclusion