Take your models and assemblies to the next level!
Assemblies & Advanced Concepts shows you how to streamline your work. Use the tips and tricks in these lessons to learn more than just the commands. Give your clients the highest-quality designs in the least amount of time.
84 Lessons
9 Hours (540 Minutes)
664 MB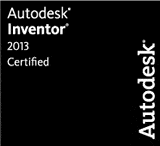 More Surface Modeling
Fusion
Marking Menu 
Dynamic Interface
More Lesson Models
Every lesson revised & refined
Enhanced Lesson Player
Certificate of Completion
Autodesk Inventor 2013
Assemblies and Advanced Concepts
if you want to start learning now!
if you want to bypass shipping costs!
Note: Download links never expire and you can download as many times as you need.
Buy the Download + USB Drive...
if you do not have Internet access.
if you want the same benefits of the download but would like a back-up copy of the courses.
Inventor 2013: Assemblies & Advanced Concepts Lessons
Introduction
Sketch Origin Node
Using and Creating Templates
Creating Derived Parts
Editing Derived Parts
Intro to the Assy Environment
Degrees of Freedom
Driving Constraints
Explicit Reference Vectors
Adaptive Parts and Sketches
Adaptive Constraint Strategies
Creating Adaptive Parts I
Creating Adaptive Parts II
Using Constraint Strategies
Removing Adaptivity
Driving Adaptive Assemblies
The Content Center
Mirrored Assemblies
Mirrored and Copied Constraints
Flexible Assemblies
Copied Assemblies
Pattern Components
Advanced Viewing
Assembly Viewing
Motion Constraints
Animating Gears
Transitional Constraints
Collision Detection
Contact Solver
Checking for Interferences
Creating Compressible Springs
Driving Adaptive Springs
Positional Representations
Creating Presentations
Editing Tweaks
Animating Presentations
iFeature Design
Inserting iFeatures
Reusing Part Features
Advanced iFeature Design
Reducing Dangling Geometry
Creating iPart Factories
iPart Members
Editing the iPart Author
iMates and iParts
Custom iParts
Creating iPart Assemblies
Updating iParts
Threaded iParts
iMates and the Content Center
Identifying and Using iMate Glyphs
Inferred iMates
Scaling Parts
Combining Parts I
Combining Parts II
Subtracting and Splitting Parts
Deleting Faces
Strategy for Splitting Parts
Trick for Measuring Interferences
Prep for Design Accelerator
Bolted Connections
Generating Bearings
Generating Shafts Part I
Generating Shafts Part II
Generating Shafts Part III
Generating Gears
Generating Keyways
Advanced Spring Design I
Advanced Spring Design II
Animating Springs
Resolving Missing Files
Working with Large Assemblies
Level of Detail
Shrinkwrapping Components
Skeletal Modeling Introduction
Make Part and Components
Kinematics
Sketch Blocks
Advanced Top Down Design
Blocks and Assemblies
Modeling Techniques I
Modeling Techniques II
Flexible Block Assemblies
Hybrid Design Methods
Alternate Slice Method
Import Assy to Part File
Middle Out Design
Exporting Bodies to an Assembly
Replacing Assemblies
The Assemble Command
Conclusion